Transformation
An Art Exhibition by Rose Amodeo Petronella
June 1 – July 23, 2019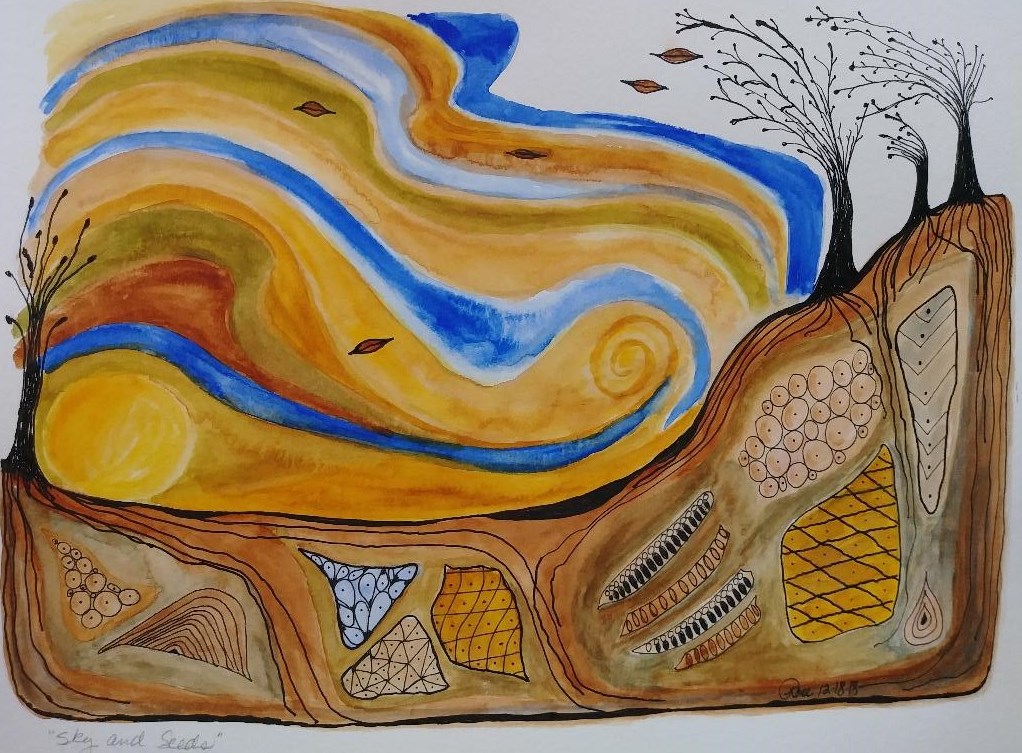 This exhibition is a visual memoir in bold color which asks the question: What life experiences transformed me into the person I am? It is an account of experiences of heart and spirit, which have led to deeper self-awareness, spiritual growth and a commitment to justice.
The exhibit explores the empowering narrative of the artist's life from 1975 to 2019, beginning with three collages from the 70's and 80's, one of which is "Hidden Potential."
The story line continues chronologically with compositions entitled "Beth, My Sweet Sister," "Peace Corps," "Leaving Abuse," "Catholic to Protestant," "Ordination," "Marriage," "Mandala Artist," "Pathways of Spirituality" and "Mysterious Eyes of Alzheimer's." Brief sentences of elaboration accompany the artworks.
A series follows which explores seeds, roots, leaves and trees. These signs of nature's cycle of gestation, connectedness, healing, decay and rebirth inspire thoughts of human growth, connection, blossoming and life purpose. In the triptych titled, "I Am That Tree," are hidden words from the Christian Book of Revelation: "'The leaves of the tree are for the healing of the nations.' Rooted, in leaf, I am that tree."
In addition to the works mentioned above, the viewer will encounter mandalas, circular designs which suggest wholeness and healing. The artist began drawing mandalas of her emotions with colored pencils in 2001, during a time of turmoil in her life and work. The circular drawings were created intuitively, without planning of any kind. In this way, as images appeared on paper, she developed an awareness of her inner emotional process while experiencing the freedom of expressing her creativity. This experimenting with color began a process of self-reflection, which became a prayer practice that continues today. Recent mandalas express the artist's commitment to, and trust in, the work of the Divine.
What life experiences transformed you into the person you are?
Join us for the opening reception, Sunday, June 2, 2-4 p.m. Light refreshments will be served.
Rose Amodeo Petronella is a spiritual director, artist and retired minister in the United Church of Christ. She recently published Honoring the Soul: Mandalas for Inspiration and Insight, available at lulu.com. She grew up in Rocky Hill, Connecticut, and lives in Middletown, Connecticut with her husband.