Her Season Exhibition with Diana Rogers and Jill Vaughn
On Display June-November 8, 2021
The Mary C. Daly RSM Art Gallery at Mercy by the Sea
Her Season arose from the idea that the cadence of our lives and Nature are interconnected. Jill Vaughn and Diana Rogers approach their art from unique perspectives, one from the inside and the other from the outside They come together to share Mother Nature's healing gifts though art-making.
Diana Rogers' work flows with the seasonal changes of life and her surrounding landscapes. Marshes capture the passage of seasons; ocean waters refresh our palette; and vibrant fall reds give us energy to pass through the winter. Exuberant color and energetic mark-making capture the movement and spirit of a place. Her work honors Mother Nature and calls attention to the places we cherish but need to protect and restore in this era of climate change. View more of Diana's art on her website here.
Jill Vaughn's work gives thought to the harmony between Nature and human's time on Earth -- our seeds and consumption in contrast to Nature's seeds and diminishing gifts. Egg forms represent Nature's regeneration yet symbolize her fragility to combat our touch. Vaughn questions her own ability to live in reciprocity with Nature, while living in a world that is overwhelmingly complicit with the consumption of its resources. Some of Jill's pieces in the exhibit can be found on her website here.
Jill Vaughn inwardly explores her relationship with Nature through art-making. Diana Rogers visually embraces Nature's bounty in its full glory. Two artists. Two visions. Her Season.
The exhibit is open to guests at Mercy by the Sea. If you're not attending a retreat or program, please contact Ann McGovern, RSM to arrange for a private showing.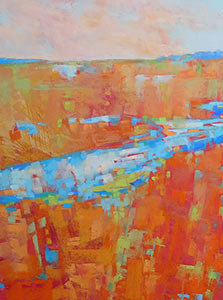 Diana Rogers:
Solstice Arrives at the Marsh,
Pastel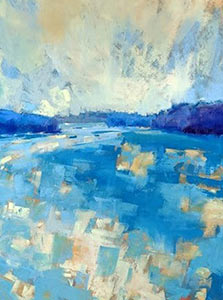 Diana Rogers:
View Through the Outer Islands,
Pastel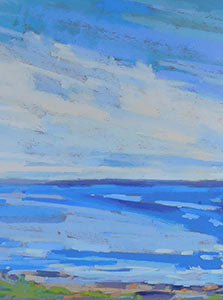 Diana Rogers:
Nearing the Solstice at the Ocean's Edge,
Pastel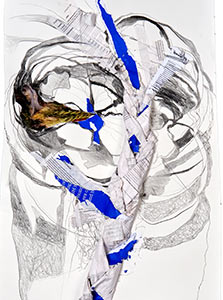 Jill Vaughn:
Braided,
Mixed Media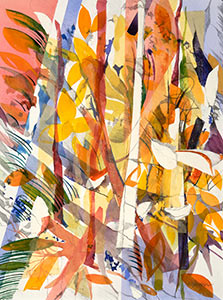 Jill Vaughn:
Leaf Passages,
Mixed Media
Jill Vaughn:
Twisted Vine in Red,
Mixed Media