Celtic Prayer Circle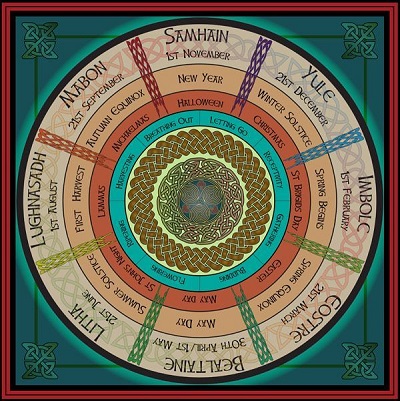 We invite you to join us as we continue to celebrate and journey through all eight Celtic seasons acknowledging their individual qualities and energies, gifts, symbols and significance. As well as occasional in-person programs, we offer all our Celtic Prayer Circle reflections via our weekly email (you can sign up here).
In the Celtic tradition, the changing seasons were considered "thin places" where the veil between heaven and earth lifted, or was nearly transparent. In such thin places, the Celts experienced a deep sense of God's presence especially through awareness of, and alignment with, the natural world. As a community, we seek to cultivate a sense of God by celebrating each season's special energy through prayer, reflection, chant, ritual, poetry and music, honoring the Sacred in all of creation. The Celtic Wheel of the Year, which begins in October, offers an inspirational model and context in which to place the reality of our joys and sorrows within Nature's rhythms: The continuing birth, death and resurrection of life.
2022-23 Celtic Prayer Circle Dates
October 31 to November 1, Samhain begins the Celtic Year. It marks the time of darkness and initiates the season of non-doing. It is a time dedicated to connection with our ancestors; those who have journeyed before us on this earth. View the 2022 Samhain reflection here.
December 21, Winter Solstice/Yule starts the journey of continual sinking and letting go, deeply surrendering to the Holy present in the darkness. View the 2021 online reflection here.
February 1, Imbolc/St. Brigid marks returning light and the re-awakening energy of spring. It also honors Saint Brigid, a patron saint of Ireland who was a beloved leader within the early Celtic Christian church. View the 2023 reflection here.
March 20, Spring Equinox/Ostara Equinox ("equal night") is when light and dark are balanced, offering an opportunity to honor and implement balance as a practice in life. It is also a festival of promise, which celebrates the returning new life after the death and bondage of winter. View the 2022 Spring Equinox reflection here.
May 1, Bealtaine signifies the gateway to the bright half of the year. It marks the beginning of summer and expansiveness within us and within the natural world. View the 2022 Bealtaine reflection here.
June 21, Summer Solstice/Litha represents the triumph of light over darkness, the complete blossoming and fruition of seeds sown. View the Summer 2022 Solstice/Litha reflection here.

August 1, Lughnasadh inaugurates the harvest season, the successful outcome of the working relationship between people and the land. View the 2022 Lughnasadh reflection here.
September 23, Autumn Equinox/Mabon is both a celebration and time to rest after laboring for the harvest. It symbolizes reaping what one has sown and a time to look at the hopes and aspirations of Imbolc and Ostara and reflect on how they have manifested. See the 2022 Mabon reflection here.