Advent & Christmas
Week Four with Denise Page, storyteller and Founder and Director of Ubuntu Storytellers
Week Three with Dennis McCann, Tai Chi instructor, Ocean of Light
Week Two with Sister of Mercy Mary Daly, Theologian and Artist
Week One with Amanda Patrick, MBTS Director of Communications
To subscribe to Mercy by the Sea's e-newsletter, click here.
Something Sacred is Coming This Way...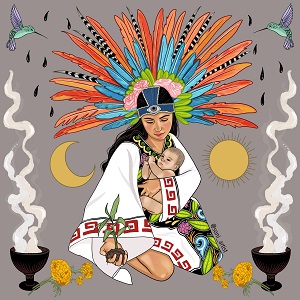 "That is how my ancestors would have said it. In the midst of all this turmoil and confusion, when we cannot clearly see the path before us, when we feel trapped in a situation we cannot control, then I believe the wise elders of my holy heritage would climb to the highest place of the heart, draw the circle of reason and faith around them, and stand to sing their prayers into the open sky of the history to come.
They would not shrink into a corner afraid, but rise up to catch the first light of what was coming into being all around them.
We are living in a time of emergence.
We are witnesses to a great renewal.
The world is full of the fear of birth and change, but that transformation will one day be our blessing.
Do not be afraid, but be believing.
Come to the place where the ancestors are already standing.
Come and see.
Something sacred is coming this way." – Rt. Rev. Steven Charleston, Choctaw
In this Advent season of opening to the wonder of God's desire to be with us, we long for peace amid the darkness, remembering that beyond the longest night each day lengthens toward the light. We behold all that we have been given and all that we have to give to each other.
We pray. We wait. We behold. Mostly, we give thanks, knowing deep in our hearts that something sacred is coming.
Advent this year, for us, has been inspired by "Life," the beautiful depiction of mother and child by Soni Lopez-Chavez and by Charleston's poem, "Something Sacred is Coming This Way."