Live Virtual Program with John Philip Newell: Beyond the Pandemic: How Shall We Live?
Sunday, July 19, 2020
1:30 – 2:30 pm Eastern Time
In collaboration with Heartbeat and Host, Hartford Seminary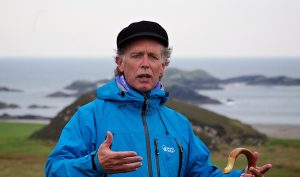 Internationally acclaimed Celtic teacher John Philip Newell will lead a one-hour livestreamed session on accessing wisdom in the midst of the Coronavirus pandemic. In particular, how will we choose to live after the pandemic?
Dr. Newell will draw on teachers of the past, asking, "If they were with us now, what might they say to us?"
His presentation will be followed by a shared meditation and offer an opportunity for participants to submit questions to the moderator of this gathering, some of which John Philip will be able to respond to during this one-hour session.
The Program Fee is $25/person with an option to donate $5 to the Connecticut Food Bank. Registration is limited to 500. The link to the Zoom webinar will be sent to confirmed registrants before the event.
John Philip Newell, the celebrated author of Listening for the Heartbeat of God: A Celtic Spirituality, is one of the most prominent Christian teachers of spirituality in the Western world.
Formerly Warden of Iona Abbey in the Western Isles of Scotland, he divides his time between Edinburgh, where he does most of his writing and teaching in the United States and Canada, as well as leading international pilgrimage weeks on Iona.
In 2016, John Philip founded the School of Celtic Consciousness (SCC) in the belief that we need to access our Christian inheritance for this moment in time, urgently.
John Philip's much anticipated forthcoming publication, Sacred Reawakening to Earth & Soul (with Celtic Prophets from St. Brigid to John Muir) will be published in 2021 by Harper One.
Learn more from is website: https://heartbeatjourney.org/j-p-newell/.
Due to the Coronavirus pandemic, the New England School for Celtic Consciousness with John Philip Newell will not be offered this July 2020. The curriculum for Year One will resume in July 2021.