Plein Air Painting by the Sea:
A Beach-side Workshop
with Jill Nichols
Wednesday, May 18, 2022, 10 a.m. – 3 p.m. (Rain date, May 19)
$90 per person includes lunch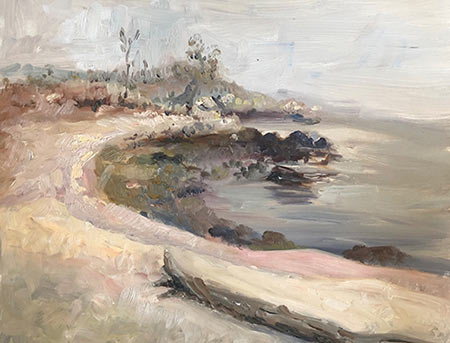 This plein air painting workshop is designed for pure enjoyment and fulfillment. Participants will paint outdoors by the sea under the direction of artist, Jill Nichols. After a walking meditation through Mercy's inspirational shoreline surroundings, students will paint independently under Jill's guidance. All media and levels of experience are welcome for this individually-attuned one day workshop. A schedule and supply list is available from the instructor.
Jill Nichols: Heart, soul, science, beauty and an exploration of nature are intrinsic to Jill's work. Her paintings range from small observational studies to large composite works that play with space and mathematics. Jill is best known for her extraordinary understanding and handling of color. She is represented in several prominent collections, including the Vatican Observatory Museum, University of Connecticut Health Center and Yale Medical Center. Jill is an adjunct professor of art at the University of New Haven and conducts international painting workshops. To learn more about Jill, visit www.jillnichols.com.
The workshop is limited to 15 participants who will have access to Mercy's indoor facilities, including the Mary C. Daly RSM Art Gallery where Jill's exhibit will be on view.
Jill's exhibit, The Divine Cosmos, is on view in the Mary C. Daly Art Gallery at Mercy by the Sea until June 9. Learn more here. The exhibit is open to registered guests at Mercy by the Sea. If you are not staying with us, feel free to arrange a private viewing by emailing Sister Ann McGovern.