Sabbath by the Sea: Explore a New Way of Being in Your Second Half of Life
January 3 - January 17, 2020
Applications Due by November 30, 2019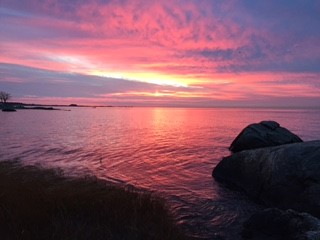 Sunrise on Mercy by the Sea Beach - photo by Ann McGovern, RSM
As a new decade dawns, give yourself the gift of Sabbath by the Sea - two uninterrupted weeks to explore the spiritual invitations of this second coming of age. Engage your lived experience, imagination and body to grow toward a greater sense of wholeness, freedom and fullness of life.
Sabbath by the Sea offers a contemplative, casual and open time and place to listen in to your still inner voice for the questions, longings and call that arise as you live into the Second Half of Your Life.
This time in life is not defined by a specific age, but as that time when you might wonder, "Is there more to life?"
Little by little, or through a sudden life event, you find you cannot or don't want to live life in the way you always have. Is it time to look at your life with fresh, soft eyes?
Though our culture portrays aging as diminishment on the one hand, or simplistically "staying young" and denying aging on the other, our experience and all contemporary science have come to agree that the second half of life is a distinct and creative development stage. An opportunity that is new in human evolution because of increased longevity.
Geriatrician Bill Thomas, M.D. has written, "Aging has propelled the development of the human being from the beginning...Things will decay, but they cannot age. Aging is an active process that requires the force of life."
Paradoxically, this threshold calls for a willingness to "not know" for a while, to set aside perfectionism, to slow down and pay attention to parts of yourself that you may have neglected.
Sabbath by the Sea offers that opportunity. The purpose is not to leave Sabbath with a five-year plan. It is a sacred time, a thin place, to reflect on where you are in life and begin to imagine "something new." Some would say that the process of aging itself is a spiritual practice, if only we can recognize it. We intend to engage that practice.
You will be supported by a curriculum that includes contemplative practices, poetry, story, mythology and the arts. We'll begin with some myth-busting of our culture's stereotypes of aging, exploration of our own, honest experience of aging, and move toward a more realistic and expansive vision for this time in life.
Spiritual direction, contemplative writing, creative expressions, and the wisdom of this temporary, intentional community of seekers in the second half of life will support your explorations. Individual work with a certified life coach and Enneagram teacher will be provided for deepening self-knowledge and working with the spiritual challenges. Gentle yoga, tai chi and healing touch will be provided on site.
A typical day will include, contemplative practice, input, facilitated conversation, individual reflection, rest and play.
You will stay in Seascape on the eastern edge of our beach where sunrises are legendary and which provides all the comforts of home.
All rooms will be single occupancy. Most have sea views. All have ensuite baths, some private, some shared with the room next door. Three healthful meals a day will be provided by our creative cooks and served in our lovely McAuley Dining Room.
To be considered for participation in this program, please print the application, complete, scan and e-mail to Rosemary Jones in Guest Services (rosemary@mercybythesea.org) or mail completed application to Rosemary Jones, Guest Services, Mercy by the Sea, 167 Neck Rd., Madison, CT 06443.
Enrollment is limited to 8 participants. Applications due by November 30, 2019.
Total cost for our 2-week Sabbath by the Sea is $3,998.
All are welcome. Some scholarship monies are available, thanks to the generosity and commitment to this work from our donors.