Spring Sabbatical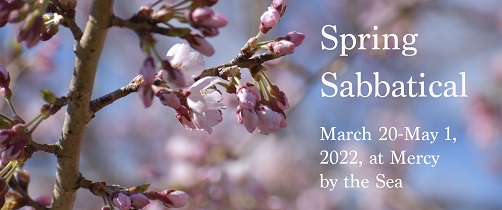 The Spring Sabbatical is now full, but if you'd like to be placed on a waitlist, please email Sister Eileen Dooling.
We at Mercy by the Sea are delighted to announce a Spring Sabbatical for women religious, a time for rest, prayer and reflection, solitude and community. Trusting that God is at work in our lives and is as close to us as our hearts, this sabbatical will be self-directed with guidance from a staff mentor. There will be the time needed to listen to the voice of Another in beauty, simplicity and freedom. This sabbatical is limited to eight persons who will enjoy sweeping views of Long Island Sound from Seascape, a separate but elegant house on the grounds of Mercy by the Sea. The cost of the Sabbatical is $5,400 which includes a $300 non-refundable deposit. Applications are due on or before October 15, 2021.
If you are longing for the "something more", are exhausted from the demands of ministry, or are looking to refocus life and refresh your relationship with God, we invite you to join us for this sacred time of renewal, rest and reflection. For more information and to obtain an application, please email: Eileen Campbell, RSM at ecampbell@sistersofmercy.org or Eileen Dooling, RSM at edooling@sistersofmercy.org.
Click here to download a flyer about the sabbatical.
Praying
It doesn't have to be
the blue iris, it could be
weeds in a vacant lot, or a few
small stones; just
pay attention, then patch
a few words together and don't try
to make them elaborate, this isn't
a contest but the doorway
into thanks, and a silence in which
another voice may speak.
— Mary Oliver, Thirst