Angels in the Dark

Meet Your Inner Healer With Meditation and Paint!
A creativity weekend with George Herrick
Friday, February 10 through Sunday, February 12
Single Occupancy $425; Double Occupancy $375 per person
(All rooms have ensuite baths; price includes all meals from Friday dinner through Sunday breakfast.)
"When I learned I had a fast-growing cancer, I was, of course scared, confused and angry. I was in good hands with a great medical team, so as an artist, I felt the best way to assist in my own healing was to express the cancer and release it with paint! As I did, I unexpectedly started painting abstract angels – the inner healers helping me get well. I called them my "Angels in the Dark." I began to understand that painting my personal experience of the healing process helped me to release my fears, express my anger, attend to my grief and release all the feelings and thoughts that would otherwise keep me up at night. Since then, I have painted "Angels in the Dark" to help me deal with other stressors and worries, for example, COVID-19."
In this weekend workshop, which has evolved from several sold out day-programs on the same theme, you will meet one of your "angels," and learn how to easily paint it, even if you have never picked up a brush before. You may begin to feel how exciting it is to express both what scares you and sets you free! You will have ample time to paint on your own, while being supported by George and a small group of participants. The program will include input, reflection, hands-on painting practice, silence and sharing (if you are so inclined). There will be open time to enjoy the beauty of the land and waters of Long Island Sound.
This simple, inexpensive art supply list will also be provided when you register for the workshop.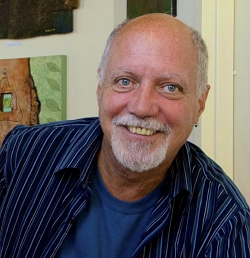 George Herrick is an artist, life coach, author and shamanic practitioner who loves life, creative expression and laughter. He is passionate about celebrating the creative spark in all of us. He is committed to helping people heal and transform through authentic, creative self-expression. George's art is inspired by life's color and textures as well as the beauty of nature and of the human spirit. These also inspire his creative education programs, retreats and workshops.