Living Resistance
An Indigenous Vision for Seeking Wholeness Every Day
A Weekend Retreat and Book Signing with Kaitlin B. Curtice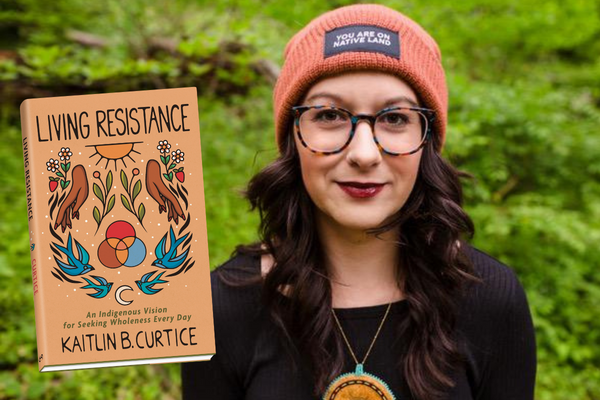 Friday, April 21 to 23, 2023
Single $460, Double $420

(includes ensuite bathroom and all meals from Friday dinner through Sunday breakfast)
Commuter $250
(includes dinners on Friday and Saturday night and lunch on Saturday)
Scholarships are available.*
Based on Kaitlin Curtice's new book Living Resistance: An Indigenous Vision for Seeking Wholeness Every Day (Baker Books, March 2023), Kaitlin will facilitate this weekend retreat based on the four realms of resistance: Personal, Communal, Ancestral, and Integral. We will spend time conversing in small and large groups, journaling, and have private time to spend in beautiful seaside surroundings to reflect and integrate. A book signing with the author will follow the retreat on Sunday.
For this weekend program, Mercy by the Sea is delighted to collaborate with the Institute for American Indian Studies Museum and Research Center (IAIS) in Washington, CT, whose educators will be in attendance and be invited to provide optional experiential activities during participants' private time. IAIS preserves and educates through discovery and creativity the diverse traditions, vitality and knowledge of Native American Cultures. https://www.iaismuseum.org/
Kaitlin Curtice is an award-winning author, poet-storyteller, and public speaker. As an enrolled citizen of the Potawatomi nation, Kaitlin writes on the intersections of spirituality and identity and how that shifts throughout our lives. She also engages on these topics to diverse audiences who are interested in truth-telling and healing. As an inter-spiritual advocate, Kaitlin participates in conversations on topics such as colonialism in faith communities, and she has spoken at many conferences on the importance of inter-faith relationships. Kaitlin is the author of Glory Happening: Finding the Divine in Everyday Places (Paraclete Press, 2017) and Native: Identity, Belonging and Rediscovering God (Brazos Press, 2020). She has written online for Sojourners, Religion News Service, Apartment Therapy, On Being, SELF Magazine, and more. Her work has been featured on CBS and in USA Today. She also writes at The Liminality Journal.