Returning to You: An Opportunity for Respite and Restoration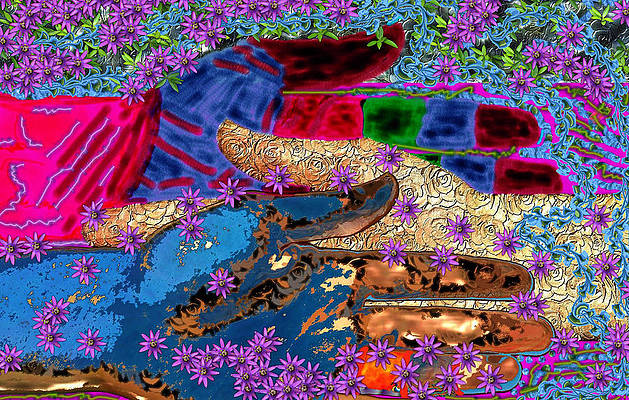 Art by Kenneth James: My Hand, Your Hand and a Helping Hand
Thursday, July 14, 5:30 p.m.-Saturday, July 16, 2022, 1 p.m. with Roberta Whitney
$450.00 single occupancy, $400 double occupancy
Includes program and all meals from Thursday dinner through Saturday lunch. All rooms ensuite.
Amid ongoing, unrelenting pandemic challenges, this special retreat is designed for ALL who have worked and continue to work in public spaces serving others in various capacities. It is for those who have stood steadfast through waves of COVID crises and "did what needed doing." This may include teachers and principals who creatively adapted work to keep students engaged and learning; chaplains and clergy who had to redefine connection; social workers, first-responders, funeral directors and healthcare professionals – all of whom witnessed incredible, even unspeakable suffering. It is for those who braved dangers, tried to comfort one not touchable, been compelled to bury a loved one without being able to say "goodbye," and made difficult decisions or choices. This retreat is for you who have maintained life and hope for others. People of all faith backgrounds or nones are welcome.
Over and over, there have been voices expressing a longing to "return to the way things were" before the pandemic. After more than two years enduring the harsh realities of COVID-19, there is an equally compelling urge to "move on." In this summer interlude, we invite you to breathe deeply into the present, in a restorative and healing place by the sea where you can reclaim and re-turn toward your fuller self perhaps with a sense of increased wellbeing, balance and hope.
In companionship of self, and in community and fellowship with others, you can allow and attend to what wants to be named, soothed, expressed or healed from all you have carried these long months and years. On your own, you may choose to engage in art, journaling or creative writing as well as quiet contemplation in Lyons Chapel, in designated quiet areas or throughout these tranquil, seaside grounds. Rest will be encouraged. Select group presentations will serve to guide, inspire and connect. There will be options to participate in such as free Tai Chi by the Sea or viewing Angels in the Dark in the Mary C. Daly RSM Art Gallery, an exhibit about transcending pain and illness through art and faith by cancer survivor George Herrick.
The program is designed to give you an opportunity to release some of what you "carry in the bones" to make space for regenerative and creative energies to support you in work and life moving forward.
Roberta H. Whitney, MA, BCC is a clinical chaplain, interfaith minister and spiritual director. Personal experiences during COVID-19 at hospital and in hospice work have informed the design of this retreat. Roberta joins the Mercy by the Sea staff in seeking ways to honor the challenging work so many have done in these times and to invite healing through a restorative pause and in a sacred setting by the sea.