Book Review: 'Braiding Sweetgrass' by Robin Wall Kimmerer
By Karin A. Nobile, Program Associate
Posted on
What do you get when you weave together indigenous wisdom, scientific knowledge and the teachings of plants?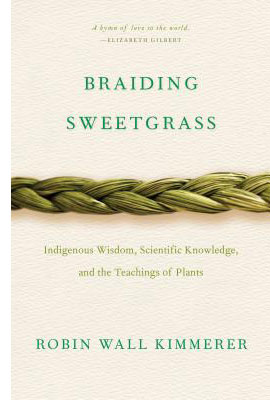 I assure you, my question is not the set-up of a joke. Rather, the answer pertains to something foundational to our very survival and speaks to the hope for Earth's renewal. That is, trying to restore our connection with the natural world by imagining a relationship in which "people and land are good medicine for each other."
When you intertwine wisdom, science and the Spirit of nature, you get Robin Wall Kimmerer's award-winning book, Braiding Sweetgrass. It's a braid of meaningful stories that the author lovingly tells as a mother, scientist, decorated botany professor, poet and as an enrolled member of the Citizen Potawatomi Nation.
Kimmerer explains how evolving our ecological consciousness can improve our understanding of nature's generosity and the reciprocal relationship humans can have with Earth. She is certain that the door into that new way of being is gratitude. When we reframe our perspective and see "the world as a gift" and as our sustainer, then land becomes our moral responsibility – something we want to protect and give back to through "reciprocity."
As a Native American botanist, Kimmerer regards plants and animals as our oldest teachers, our elders. As a poet, the world speaks to her in metaphor and she sees the "animacy" in all of Mother Earth. The author shows us how other living beings – from salamanders to sacred ceremonial sweetgrass – generously gift us with teachings, even if we don't know or have forgotten how to hear their voices. She also shows us how to see the world through one unifying lens.
There was a time when Kimmerer recalls teetering precariously between the scientific and indigenous worlds of knowing, but the bees taught her integration. They showed her how to move between different flowers to enjoy the nectar of all. In doing so, she figuratively learned the "dance of cross-pollination that can produce a new species of knowledge, a new way of being in the world." Now she is certain that there aren't two worlds, just this "one good green earth," which she calls us to cherish by offering our gifts of "mind, hands, heart, voice and vision."
In Braiding Sweetgrass, Kimmerer shares the ancient rules of the "Honorable Harvest;" how it is our moral responsibility to find ways to enter into reciprocity with the natural world through gratitude, ceremony, land stewardship, science, art, and "everyday acts of practical reverence."
Anyone who cares about eco-spirituality, who yearns to see the sacredness in all and seeks justice for Creation should read Braiding Sweetgrass. This is a deeply moving and transformative book. Long after you read it, don't be surprised if it plants seeds in your consciousness that grow into new expressions of reverence for the Earth. Don't be surprised if life's beauty becomes more vivid; becomes as distinct as the fragrance of sweetgrass. And, don't be surprised if you fall in love with how Kimmerer holds the world in the close embrace of possibility.
Registration for Robin Kimmerer's weekend retreat, "Returning the Gift: What Does the Earth Ask of Us?," will begin early February. The program will embody acting in harmony and interdependence with all of Creation, a core value of the Sisters of Mercy.
---