Coloring Your Hair and Mowing Your Lawn during a Pandemic
By Jean Golicz, Master Gardener and Board of Trustee member
Posted on
You may have heard of the "Gray Revolution", older women embracing the aging process as opposed to fighting it with expensive hair dyes and wrinkle creams. You may have even noticed younger women who have intentionally gone gray with soft hues of silver, purple, and pink intertwined. This trend has been promoted "by style setters like British Vogue fashion features director Sarah Harris, who first began going gray in her teens, and Instagram accounts like @grombre, which reposts and celebrates women who show off their new silver growth (a.k.a. their gray ombré). What began as a resource to help women feel less embarrassed or ashamed about grays has now grown into a community of 74,000 where its followers share stories about why they decided to go gray." (https://www.glamour.com/story/gray-hair-revolution)
Now that salons have closed because of the Corona Virus pandemic, the gray revolution has become main stream. A trip to the grocery store, my only outing these days, includes distant encounters with women wearing masks, gray tendrils curling around their faces and a dark colored pony tail trailing from behind, a reminder of a previous time. Surely, we are now saving money and avoiding exposure to harsh chemicals. Might we not consider the same approach to lawn care?
Leave it to the progressive Sisters of Mercy to not only avoid the world's slavish trap of vanity but to also embrace a minimalist approach to their lawns. At Mercy by the Sea, you will find my favorite Sisters wearing lovely crowns of gray hair while they walk through the two newly liberated spaces that have now become meadows. One is an old playing field and the other is the previous site of a school. Both areas have been reclaimed as open space. In a U.S. Department of Agriculture site study conducted in December of 2018, the area occupied by the school was identified as "an excellent opportunity for a pollinator friendly meadow. These meadows can be difficult to establish in areas with existing vegetation due to the persistence of undesirable plants and a large seed bank in the soil. However, starting with fresh topsoil, the pollinator planting could be immediately established. This would provide habitat for not just pollinators, but many varieties of birds, reptiles, and mammals." This process was adhered to by bringing in top soil and in consultation with the town of Madison appropriate seeds were planted. Additionally, the study described "a large former playing field on the east of the property that is being mowed regularly. This area could provide additional habitat for birds and other species by only mowing outside the bird nesting season of April 15 – August 30. The area closest to the shore stays wet. This area is a heavier soil (Haven silt loam), which provides less drainage and will only be more compacted by frequent equipment traffic and shallow rooted plants." As a result of the U.S.D.A. study, heavy equipment is no longer allowed in this area and mowing frequency has been reduced to accommodate nesting birds.
In an article published by the Pennsylvania State Extension Cooperative, there is a wealth of information about transforming lawns into meadows. The authors explain that approximately 24 million acres of lawn surround our houses resulting in the loss of natural vegetation and species habitat. Lawns lack biodiversity much like monochromatic colored hair; the subtle variations of nature are hidden by chemicals that destroy inherent pattern dissimilarities. "By creating a meadow, food sources for butterflies and birds will be abundant as well as nesting areas. A closely clipped lawn does not include areas of refuge." ( https://extension.psu.edu/meadows-and-prairies-wildlife-friendly-alternatives-to-lawn)
One can intentionally plant a new meadow or another option is to simply stop mowing. Prior to the pandemic, some younger women intentionally had their hair stripped and colored to create a trendy gray look. Now with the pandemic, older women have simply stopped "mowing" and let nature take its course.
One disclaimer...I love my stylist! She and I have been friends for 20 years. She grew up in the same town as my husband. I always book the last appointment so we can chat. I am well aware of the financial hardship many beauty salon owners and employees are experiencing. I'm not advocating that we never visit a salon again after this horrible pandemic is over. But maybe, we can discover a new way of needing each other that is less disruptive to the natural way of being. How about stylish haircuts and organic treatments that restore luster to the inherent dryness of aging hair and skin? I'll leave this to the beauticians but in the meantime, I'm going to tie back my graying hair and plant some wildflowers...remembering the girl I was, celebrating the woman I am and wondering why I ever worried about hair and clothes..." And why do you worry about clothes? See how the flowers of the field grow. They do not labor or spin. Yet I tell you that not even Solomon in all his splendor was dressed like one of these" Matthew 6:28-29.
Mercy Center flowers dressed in all their splendor…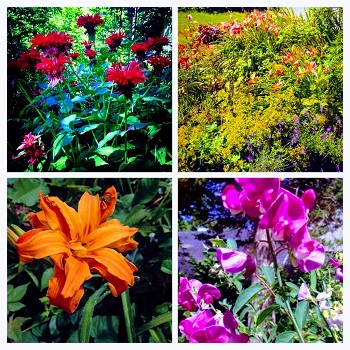 ---