New Exhibit in the Mary C. Daly RSM Art Gallery: Icons of Black, Indigenous, People of Color Saints and Religious Leaders by Artist, Patricia Brintle
Posted on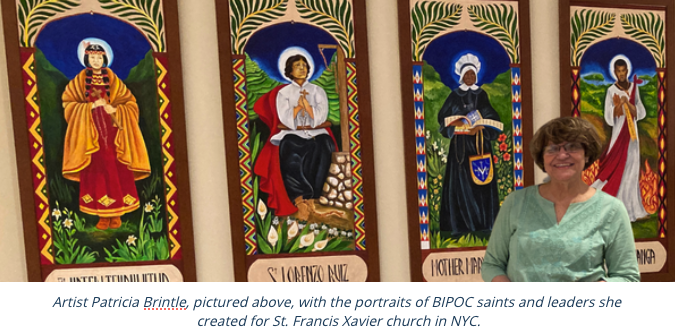 Mercy by the Sea is thrilled to be hosting an exhibit featuring works by artist, Patricia Brintle. Born and raised in Haiti, Patricia's colorful style reflects her native land. Several of her works are featured in movies and grace the covers and pages of books, magazines, and publications.
In 2021, she was commissioned to create 12 icons of saints of various ethnicities in an effort by St. Francis Xavier church in New York City to better reflect their community–inside and out. These works are now permanently installed around the church nave. Mercy by the Sea will be displaying the studies of these prayerfully conceived icons in the Mary C. Daly RSM Art Gallery until April 10, 2023.
You will want to find time to visit Mercy by the Sea in order to experience Patricia's colorful and inspired works of art!
Visitors are welcome in the art gallery during the week between the hours of 9:00 a.m. to 4:00 p.m.
A Meet and Greet with the artist will be held on Friday, March 31st from 2:00 p.m. to 4:00 p.m.
---