Soil and Spirit: Desiccation and Determination
By Jean Golicz, Master Gardener and Board of Trustee Member
Posted on
Tropical storm Isaias transformed the verdant grounds of Mercy by the Sea into a brown landscape.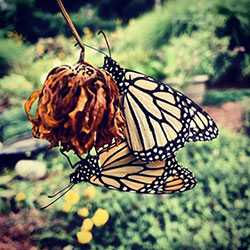 The damage that occurred is referred to as storm wind desiccation. The scorched leaves on the trees of Mercy Center might linger until their natural cycle causes them to fall or another storm results in their release. Unfortunately, this storm hit during a dry period which added to the stress. Already in a state of prolonged dehydration, plants were extremely vulnerable.
This past Tuesday, I walked the grounds noticing smaller plants with a few damaged leaves or wind-battered tips. I made a mental note to return to nip and prune certain plants. The extensive tree damage is well beyond the reach of this simple gardener. I reminded others working on the grounds to look up. An article by Tom Worthley, UCONN tree expert, urges everyone to exercise caution after this storm. If you are working in the garden remember to first look up for dangling branches. And so, I wandered through this scorched land looking for signs of life, whether it be the tenacity of two monarchs gripping a dying flower or a tinge of green at the petiole of a leaf...I looked. Whether it be at the ground beneath my tired old knees or the bright blue sky be held by these slowly dimming eyes...I looked. Parched yet still passionate, desiccated but determined…I looked. It is in this place of sacred serenity where I find myself on bended knee looking heavenwards...
The Sanctuary
It could be said that God's foot is so vast that this entire earth is but a
field on God's toe,
and all the forests in this world came from the same root of just a single hair
of God's.
What then is not a sanctuary? Where then can I not kneel and pray at a shrine made holy by God's presence?

Saint Catherine of Siena
---