Soil and Spirit: Indigenous Plants and People
By Jean Golicz, Master Gardener and Board of Trustee Member
Posted on
I always loved "Columbus Day" Weekend. Most importantly, it was a day off from school. Most predictably, it was usually a glorious fall day. It was warm enough to still play outside without a jacket. Flaunting her freedom, nature, my co-conspirator, was dressed in a bold array of fall colors. Equally pleasing were all the additional flavors and sights of the season; cider, donuts, mums, and pumpkins. These days, I only enjoy the pumpkins. Cider and donuts are too many calories and mums I've come to learn are not particularly authentic. Similar to changing Columbus Day to Indigenous People's Day, I've likewise given up chrysanthemums that are from East Asia in exchange for New England Asters. Choosing to only plant natives, I now have a favorite new fall color...deep purple.
New England Asters are large and showy growing to three or more feet in height. The perennial's hairy, clasping leaves are arranged densely on its stout stems. Showy, bright, rose-purple flowers with orange-yellow centers bloom in profusion at the tips of the leafy branches. This hardy perennial blooms in August, September, and October. Asters will flower until the first frost. They can be pruned in July to prevent them from becoming too leggy and divided every several years to keep the plant growing vigorously. Throughout Mercy Center gardens and in the adjacent field, Asters can be seen growing in with Goldenrods. Bees and butterflies frequent this wildflower. As a late blooming perennial it is a significant nectar source for Monarch butterflies. In case you're interested, here's a helpful native plant database from the Lady Bird Johnson Wildflower Center.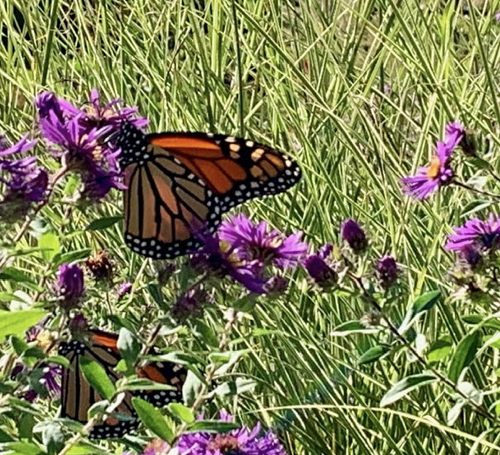 On this sunny October day Mercy Center is a place of beauty decked out in gold and purple. As I wander through the old playing field enjoying the abundant native species, I wonder about those who have cared for this land in the past. According to History of the Indians of Connecticut from the earliest known period to 1850 by DeForest, "In 1774, twenty-three Indians resided in Guilford, which then comprehended Madison. Eleven years later, those of Branford had disappeared. At the present time the Quinnipiacs no longer exist, except in story." (Mass. Hist. Coll., Vol. x, p.118) DeForest goes on to describe the transaction, "The purchase of Guilford was made on October 9th, 1639 of Shaumpishuh, Sister of Momauguin (Chief of the Quinnipiacs), and squaw or female chief of the Indians of Guilford. The tract purchased extended from the Aigicomock or East River of Guilford, to a place called Kuttanoi, most probably some part of the present township of East Haven. For a consideration of twelve coats, twelve fathoms of wampum, twelve looking glasses, twelve pairs of shoes, twelve pairs of stockings, twelve hatchets, four kettles, twelve knives, twelve hats, twelve porringers, twelve spoons, and two English coats. Shaumpishuh and her people acknowledged themselves fully paid and satisfied."
The Madison Historical Society describes this transaction in 1639 as well as an additional purchase in 1641. Due to overlapping ownership and tribal relationships, the area upon which Mercy Center sits may have been "re-purchased" several times and from different tribal leaders.
(Please note that DeForest published his work in 1851 using primary source documents which accounts for the use of terms that are no longer common)
Walking through the field I see fall asters gently swaying in the breeze. Monarchs gaily glide and gently caress their ancient sisters who provide sustenance for the journey. It is a celebratory dance that has gone on every fall for countless years. Pollinator and plant simply embracing each other in the warm October light and lovingly saying yes to co-existence, we need each other. I look for other spirits who might have lingered in this place but Shaumpishuh, Sister of the great Quinnipiac chief, is gone, along with all her people. In her honor, I vow to only plant asters.
---