Connecting to the Divine Feminine Within Each One of Us
By Catherine Steinberg
Posted on
Mary Magdalene…the lady in red…the color of fire and blood; energy and primal life forces. For many, she represents Mystery since there is very little of her that is written in certainty; some of what is written is fabricated by historians or channeled through psychic mediums.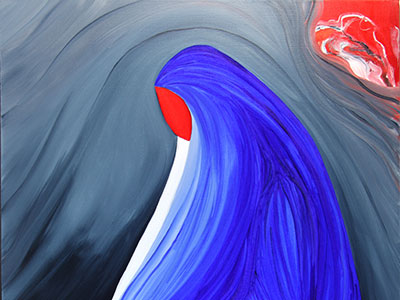 I know what I would like to believe about her, but mostly I find that Mary is continually revealing herself to us through meditation, journey, prayer and dreams if we are ready to listen. My understanding is that Mary Magdalene is the story of women, today and in the past. She represents aspects of the Divine Feminine that have existed throughout time, some more relevant than others depending on the period of history we are talking about.
As some of you know, Mary Magdalene, along with my psychotherapy and expressive arts work with women, inspired The Mary Paintings. I had been on a Shamanic path for several years which gave me the ability to receive information in a semi trance state. I was guided in painting the 13 images that came through to me in 2011. What each painting represented was not revealed until a year later. It was then that I discovered which aspects of the Divine Feminine were revealed for each painting.
This process of painting The Mary Paintings was a big Mystery to me. Early on I doubted the information I was receiving and questioned why I was painting these images which were not typical of what I usually painted. I wondered with friends as to why I was compelled to do the paintings not knowing what the outcome would bring. But I listened to the voice inside which said trust the process and all will be revealed in time. It is that voice that I have come to respect and the guidance it brings.
We all have an inner voice, that source of guidance, if we take the time to listen and follow its advice. A favorite poem of mine is by the 13th century Sufi Poet, Rumi. There is a line in the poem that repeats, "Don't go back to sleep." The poem speaks to breaking out of our habitual tendencies and becoming present to what we really want. We have to listen though and follow the guidance we are given.
Retreat leader Catherine Steinberg is a licensed psychotherapist, shamanic practitioner and artist. She will be leading a retreat with "The Mary Paintings: Expressions of the Divine Feminine" Friday, January 25th, 5:30 p.m. to Sunday noon, January 27th at Mercy by the Sea.
Learn more about Catherine and her work on her website, catherinensteinberg.com.
---