Dawnings: Holy Week Triduum to Easter
Posted on
"We come to tell our story. We come to break the bread. We come to know our rising from the dead."
As we journey through the history of Mercy by the Sea, there have been 45 Triduum retreats when we have gathered at the table on Holy Thursday and made the journey as a community to Easter morning and the first light of dawn.
In the words of Sister Florence Trahan from Easter Vigil, "…we began this celebration...in the darkness, gathered around the fire. The light of those flames illuminated the darkness. Our faces became radiant with light and with beauty as we processed behind the paschal candle, and each of us, holding our tiny, flickering tapers lit from that sacred flame, formed a vision of light that transformed this chapel, and our communal gathering as well. In that symbolism, the truth rises up and inflames our very hearts with the passionate love of our God. Illumined by the fire, we gaze upon the single rose, and we, too, know, through a deepened faith, the experience of the inspired words of T.S. Eliot, "the fire and the rose are one." In this oneness, God's ancient love, God's aching love, rolls on, in and through us and the beautiful bloom of Easter joy bursts forth once again as we wrap our healing arms around our darkened, often disfigured world and cry out from the depths of our believing, hope-filled hearts, ALLELUIA! OUR GOD LIVES!"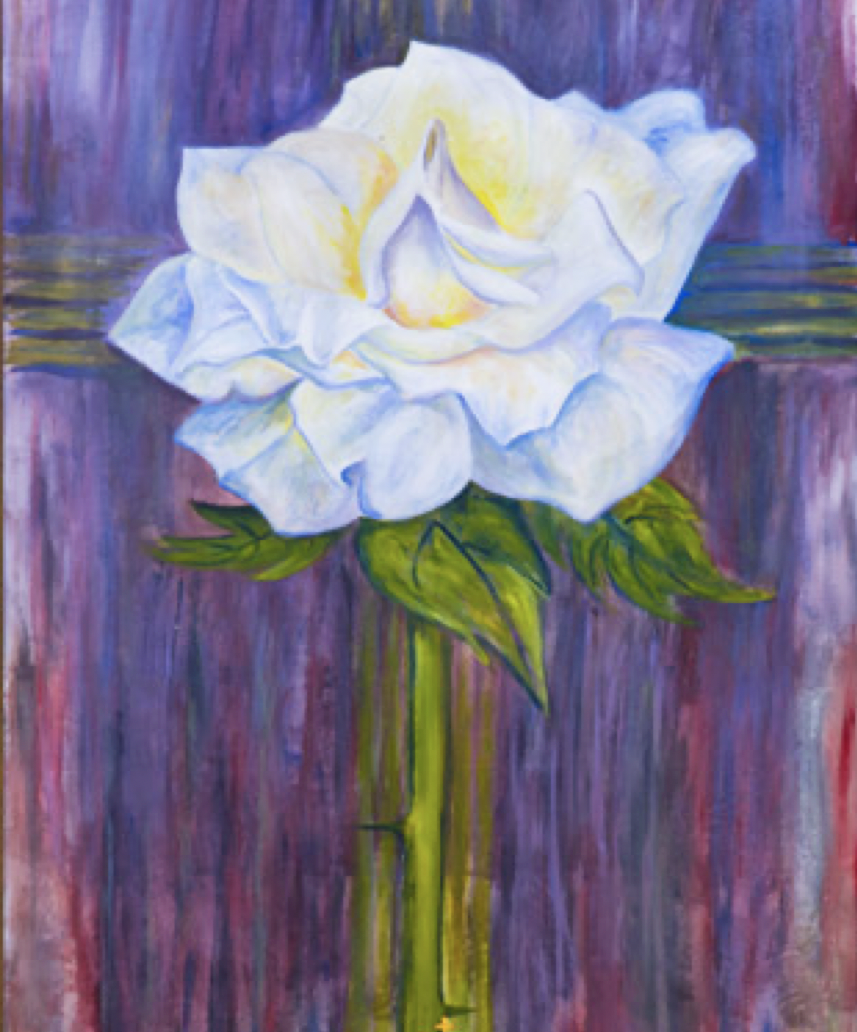 "Our Creator has sent down to us a single rose of incomparable beauty, the beauty of the Beloved, Only Begotten Son, who chose to enter the chaos of our world, and transform it by love. Our God reminds us that the world was created out of love, out of an ancient, enduring love, reverenced, and nurtured." —Sister Florence Trahan
Rose painting by Sister Mary Daly for Easter Vigil
The journey from Holy Thursday, Good Friday to the Easter Vigil and Sunrise Easter Morning … is there an awakening from one of these days and years in your memory? Email Sister Genie Guterch to share your memories.

---