Lenten Walking
By Eileen Dooling, RSM, Executive Director
Posted on
A beloved story about Catherine McAuley the founder of the Sisters of Mercy is that when she was dying she asked one of the young sisters to incinerate a package for her. The novice was not to open the package or tell anyone about it. Needless to say, the sister was curious and opened the package. Inside were Catherine's shoes. I have often reflected on this story wondering why the burning of her shoes was so important to Catherine. Catherine and her sisters were often referred to as the "walking sisters", and this act of burning her shoes seems to symbolize her acceptance that her walking days were done. Catherine was ready to move to the next stage of life.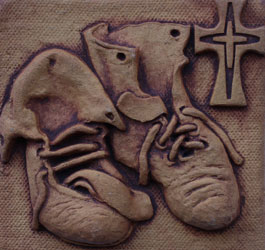 How often that image of walking, of being on the way, comes to me. Poor people walk often because it is their only choice. People join together to walk or "march" to make their voices heard. People in Central and South America walk north hoping to better their lives and to escape intolerable situations. (I think Catherine and her "walking sisters" would have been part of the "caravan", joining with people in distress on the way to something better.) And walking is an equalizer…no computer or car or good clothes are required.
Lent begins next week, and as usual I must have a Lenten resolution, a remnant of my childhood (even though my track record with resolutions isn't great!). The walking image may have something to say to me this Lent. Perhaps I am being challenged to let the car rest a bit, and do more mindful walking…to remind myself of those for whom walking is the only way; mindful of those in need; mindful of those who walk north to be free; mindful of the earth and the carbon footprint for which I am responsible; and mindful of those whom I love and who have walked with me for many years.
Ram Dass reminds us that "We are all just walking each other home."
Yes, we are all on the way together, all of us walking different paths, but heading in the same general direction. As we walk our way, may we remember to treat our fellow walkers with kindness, in word as well as deed. And let us join in spirit and in prayer with those whose walking north is a walk of hope for themselves and for their children.
May peace and hope be yours.
---