Soil and Spirit: Sowing Seeds of Luck
By Jean Golicz
Posted on
Did my Irish grandmother believe in luck? I don't think so. She was not a particularly "lucky" woman. The loss of one husband, one baby, and her own death at a relatively young age would deem her very unlucky indeed. Did she believe? Did she have faith? Yes!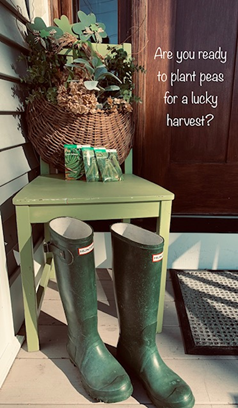 Despite her own sorrows that might otherwise have chilled her heart, creating frozen ground where no seeds of hope could possibly have taken root, she persevered through the financial chaos of the 1930s and the fearful challenges of a world war. She cherished family and grounded it with traditions. One which she faithfully honored was planting peas on St. Patrick's Day for a lucky harvest. Despite weather conditions that could vary from seventy degrees to seventeen, from pliable moist soil to impenetrable snow covered garden beds, she would first soak her seeds the night before. Grandmother trusted that the next day would arrive for gardening and that the tiny hard seeds would be ready for germinating. On St. Patrick's Day, due to patience and perseverance, the seeds swollen with moisture were now ready for sowing. Planted one inch deep in full sun along the fence, seedlings would emerge several weeks later. Is that not faith?
Consider joining us in a ritual of faith and hope on March 19th at 6:00 pm. We will gather in the vegetable garden adjacent to the greenhouse to plant peas prior to the Celtic Prayer Circle that evening. After sowing the seeds, we will ask a blessing on this year's harvest.
O God of those who have gone before us,
O God of our children and those still to be born,
O God of creatures and all growing things,
O God of the heavens and the seasons,
Of winter's barrenness and spring's energy,
Of summer's fruiting and autumn's ripeness,
You are the God of all life.
May we know you and reverence you in all that lives.
J. Philip Newell, Celtic Treasure
If you are interested in joining the Mercy Center Garden Team please contact amcgovern@mercyne.org. This group of dedicated volunteers meets Tuesday mornings throughout the growing season. If your schedule doesn't allow or you prefer some solitary time on bended knee caring for the Mercy Center gardens, opportunities abound through out the week. For instance, the group will gather on April 25, 2020, 9 a.m. to 12 p.m. for the annual spring clean up of the grounds. Watch for additional information next month.
---