Soil and Spirit: Surprise Visitations
By Jean Golicz, Master Gardener and Member of the Board of Trustees at Mercy by the Sea
Posted on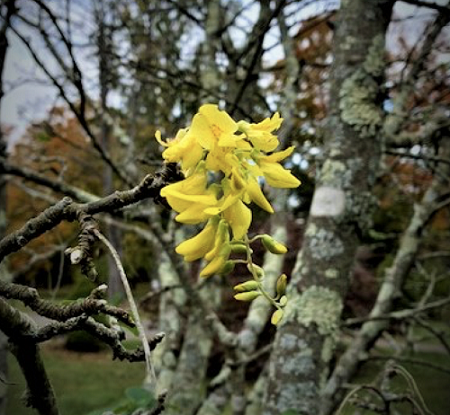 Elizabeth greeted Mary as soon as she walked in the house, and Elizabeth's baby, not yet born, seemed to know too that Mary was God's favored one. Elizabeth was astounded that the mother of our Lord would visit her, and she felt her baby leap for joy at the sound of Mary's voice. She blessed Mary and praised her for her faith. The two women had much to talk and laugh about. They were delighted, they were grateful...and Mary sang a joyful song of thanksgiving for God's goodness. Luke 1:40-45
It was an unexpected visitation as well as an unplanned event. A young Mary's betrothal interrupted by an unexplained pregnancy, and after a season of fallowness, Elizabeth too was promised an unexpected child. And now an unanticipated visit, first from an angel and now from a cousin. These interruptions and surprises catch all of us by surprise.
In March of 2020, the Mercy Center gardeners never expected to be furloughed because of a global pandemic. Returning in the spring of 2021, the land was overrun with invasive species, and the gardens were in disarray. And then the unexpected happened, the surprise visitors began to arrive. First, to create a memorial herb garden to honor Adam, an employee who had died. Then more came to rescue the pollinator garden. Another created a cutting garden while others revived the perennial bed and weeded the courtyard.
The angels disguised in gardening gloves, grubby tee shirts, and worn caps quietly and slowly tended to the neglected land. This humble group perceived the hidden beauty and embraced the possibility of this blessed space and sacred moment. Today, the gardeners have "much to talk and laugh about. They are delighted and grateful, and they hear Mary singing a joyful song of thanksgiving for God's goodness."
Where understanding is outraged
where human nature rebels,
where our piety keeps a nervous distance:
there, precisely there, God loves to be.
There he baffles the wisdom of the wise;
there he vexes our nature, our religious instincts.
There he wants to be, and no one can prevent him.
Only the humble believe him and rejoice
that God is so free and so grand,
that he works wonders where man loses heart,
that he makes splendid what is slight and lowly.
Indeed, this is the wonder of wonders,
that God loves the lowly.
"God has regarded the low state of his handmaiden."
God in lowliness—that is the revolutionary, the passionate word of Advent.
—Dietrich Bonhoeffer, Sermon: God in the Manger at Bethlehem, December 17, 1933
---