Soil and Spirit: The Lesson of the Wreath
By Jean Golicz, Master Gardener and Board of Trustee Member
Posted on
Several years ago, twenty five people gathered to weave wreaths from greens and native plants harvested primarily from Mercy by the Sea's property. As one of the participants, I thought I had carefully followed Sister Genie's instructions.
It wasn't until I held my wreath up and watched it deconstruct before my very eyes that I realized I had failed. I asked Sister Genie if it was salvageable. She said, "No, you must start all over, it has no underlying structure or form."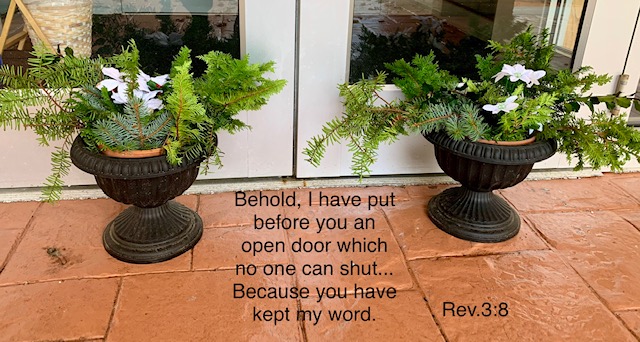 I had carefully selected two types of greens because I liked the contrasting dark color of the pine with the light tinges of gold in the cypress. Both trees have cultural significance. The pine represents eternal life and the cypress, mourning. I thought I had cleverly paired these two life events. Yes, there was mourning but there was also the promise of eternal life. However, without the structure of the sturdy fir branches to support the cascading pine and spreading cypress, I had only the experience of mourning and the promise of immortality. The fir tree that often stands alone, straight and narrow, bracing against cold winds, represents the time and solitude that is required to truly embrace the other truths offered up by the forest. It is through the discipline of patience and silence that I am able to walk through the "valley of the shadow of death" to find the promise of "dwelling in the house of the Lord forever." With the fir branches carefully secured to the frame, I was able to add the cypress and pine. When I held up my wreath, it remained intact to grace an entry door with the blessings of hope.
During this time of prolonged mourning and growing isolation, I pray we will all find time to weave both the pain of loss and the hope of immortality into our wreaths. With the support of Mercy by the Sea's weekly updates and online reflections holding us together through this time, we will hopefully experience the rituals and structures upon which to place our grief. Together, we can gently weave our individual losses into a larger circle of love.
This reflection is written in memory of our fellow gardener, Lucian, who showed us how to weave the bittersweet vine of sorrow into something beautiful.
Following is a list of different evergreens and their symbolic significance. Perhaps as a meditative and creative experience, you might wish to gather branches that hold meaning to you during this season. You could weave them into a wreath, place them in a garden urn, or use them in other ways to bring nature into your home. As you select your greens, quietly reflect on the experience of the past year. Perhaps different evergreens will catch your eye revealing lessons learned you have yet to fully understand.
Botanical Name: Thuja
Common Name: Arborvitae
Significance: Tree of Life
Botanical Name: Abies
Common Name: Fir
Significance: Structure of the Trinity
Botanical Name: Picea
Common Name: Spruce
Significance: Peace and protection
Botanical Name: Cupressus
Common Name: Cypress
Significance: Mourning
Botanical Name: Ilex opaca
Common Name: American Holly
Significance: Crown of thorns
Botanical Name: Juniperus
Common Name: Juniper
Significance: Journey and protection
Botanical Name: Pinus strobes
Common Name: White Pine
Significance: Eternal life
References:
UCONN Common Names of Plants
USDA Plant Materials Program
And a fun sources on evergreen symbolism: Trees for Life is Scotland's leading conservation volunteering charity. Their vision is to restore the ancient Caledonian Forest to the Scottish Highlands.
---