Soil and Spirit: Wintering Over Geraniums and Holding onto Hope
By Jean Golicz, Master Gardener and Board of Trustee Member
Posted on
I am committed to growing native plants. It is economically feasible and environmentally sound. Cranesbill or wild geranium is a perennial that I've added to the garden in recent years.
Wild geranium is a woodland perennial flower in the Geraniaceae family that will naturalize in optimum growing conditions. The preference is for light shade to partial sunlight, moist to slightly dry conditions, and rich loamy soil with abundant organic matter. This plant also tolerates full sunlight if given sufficient moisture. It is easy to grow and is one of the showiest of the native Cranesbills. During the hottest part of summer the foliage may decline and yellow. It was used by Native Americans to treat diarrhea and open sores or wounds. Nectar from the flowers attracts butterflies, bees and other pollinators. Songbirds eat the seeds. And, it tolerates damage by deer and rabbits!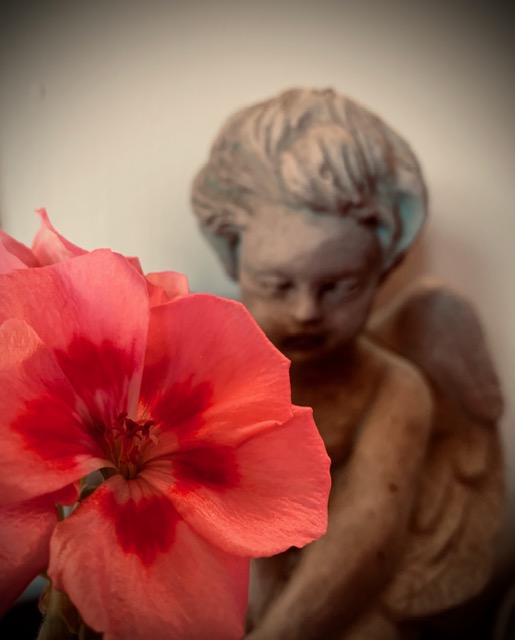 Despite my commitment to native species, I continue to be seduced by large bright geraniums displayed in colorful pots on my front porch. I just don't seem to be able to let go. So, every fall, I bring them inside and place them on a sunny shelf in the garage. Interspersed are small garden ornaments that I want to protect from the outside elements, including an angel that was my mother's. The temperature in our attached garage remains moderate and therefore a perfect place for these plants. They prefer 55°-65°F (12°-18°C). I typically repot them and do a thorough inspection for insects.
I know I also need to do a hard prune but I just don't seem to be able to do that this year. The plants should be cut back to one third. Oh, but the beautiful flowers! I still have red, pink, and orange blossoms that happily embrace the morning sun filtering through the garage door windows. They remind me of this summer. A time when I could be outside without a mask. When my family gathered around a fire pit to share a meal. We've all reluctantly returned to our separate households illuminated only by the blue light of a Zoom screen where we try to remain connected. I just don't seem to be able to prune those geraniums. Maybe this year I will let them flower a little longer as I hold on to the hope of another summer...perhaps one that might even include a warm embrace.
---