The RiverFlow Story and Love Songs to God
By Gunilla Norris
Posted on
Several years ago when my partner Stanley was still alive, the story of RiverFlow began. Stan was then in the advanced stages of Parkinson's disease. Once a creative dynamo, he became a prisoner of his own body. I firmly believe that because of that wrenching and debilitating difficulty, a life-enhancing response came to us out of the blue.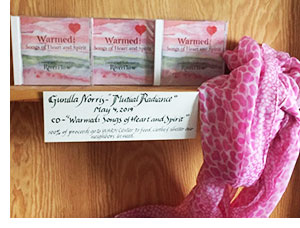 For me the first learning from RiverFlow was that an accepted need could become a formidable catalyst. As it happened, one fateful day friends came with guitars to play and sing for us. Stan, in his so called heavenly chair in which he sat a good part of every day, simply glowed with pleasure. He loved show tunes and music of every kind. Feeling his intense pleasure, our friends told us they'd return again. WOW! Right then I learned how appreciation is a mighty magnet.
Our friends came every other week to play for Stanley. I didn't know it then, but it was the early beginning of a river's flow. When enthusiasm and creative support are in the air, all kinds of things can happen. It was so contagious! I was bitten by the song bug and couldn't help myself, so I wrote the lyrics for the first song I called "Come Into The Circle:"
Come Into the Circle
Come into the circle. It's the very thing to do. Come into the circle. There's room for me and you. Come into the circle. You're there in any case. Come into the circle. We'd love to see your face.
Come in, come in, for here you'll find
Come in, come in, friends of every kind
and lovely, lovely, lovely, lovely peace of mind.
Come into the circle. You can call it Pi R square. Come into the circle. Let love be what we share. Come into the circle. It's where we all belong.
Come into the circle where hearts break out in song.
My beloved Stanley passed away. Songs and singing came to an end. Our home went on the market. It seemed to me that the river had stopped flowing, but I was wrong about that.
Some years later it seemed a shame to me that so many of the lyrics I had written were without music. Then I met Frank Pendola and his lovely wife. Could Frank, a singer and songwriter, put music to some of my orphaned lyrics? You know the answer. It was yes. The river began to flow again.
An intention to create a body of songs grew. The focus deepened and with dear friends; Barbara Harvey, Natalie Billing and Frank, my lyrics were given music. WHAT A FANTASTIC FEELING WAS THAT! Suddenly my words came alive and have become love songs to God.
When something is alive it has to move, to go somewhere. And mysteriously the universe steps in to help and further.
Together we understood our songs weren't just for our own pleasure. We decided to make a CD titled "Warmed: Songs of Heart and Spirit" to benefit something we could all support. Having some money from Stanley's estate, I could fund the project and in a quiet way honor him.
And then came the gift of Andrew Cruz. Through a friend of Frank's we learned of him, and he was right in our neighborhood! Tall, with a red beard, patched blue jeans and infinite patience he recorded, engineered, mixed, added, tweaked, listened and encouraged. Our songs became much better. He gave us so much more time than he was paid for. Being in his studio with a rack of mikes, a vast recording console, strange shapes on the walls to make sound go deep and round was an adventure. It was wonder-filled. I learned again how generous people often are, lavishly giving of themselves.
A watercolor by Barbara Harvey's became the cover. Pamela Zagarenski designed the CD for the pamphlet with great love and care. Help kept on coming. The wonderful musician, Ricky Tiven brought many instruments and professional skill to the recording. Over and over I was learning how amazing it is when people join towards a worthy goal. It's the real story.
This is a huge story, but it doesn't get headlines. It is quiet, un-dramatic, heroic and downright beautiful. RiverFlow is dedicating all of its profits to help the homeless and hungry through the WARM Center (warmcenter.org). Every CD that is sold will add to the work of this amazing place. To be a part of "a community that takes care of its own" is a privilege.
Consider buying copies of the CD, making the love songs to God a Valentine's Day gift to share with family and friends. To order a CD for $18, call 401-596-9276 and ask for Russ Partridge or mail checks to the WARM Center, 56 Spruce Street, Westerly, RI 02891. Write: "CD Donation" on the check. Please hold this project in the light. Your gift will keep on giving. Let the river flow!!!
Artist Gunilla Norris has been a psychotherapist in private practice for more than 40 years. Her special love has been teaching meditation and leading contemplative workshops of many kinds at Mercy by the Sea and beyond. She has published eleven children's books, two books of poetry and nine books on spirituality. Visit her website: gunillanorris.com.
---